---
Running in Miyazaki
---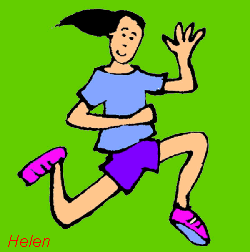 I am not a very serious runner, but I do enjoy the sport. Hopefully, the following information will be useful for those of you who would like to do some running while you are here in Miyazaki. Bella McKibbon.

Climate:
Miyazaki has a fairly moderate climate, so you can run pretty much all year round. In some parts of the prefecture, it gets chilly in the winter, but we are still talking above 0 degree Celsius. (Much better than those long Canadian winters!) In the summer, it can be extremely humid and hot, so one should be careful about dehydration and heat stroke. Early morning or evening is your best bet to go for a run. For distance runners, if you are used to carrying a bottle for those long runs, bring it with you. I think water bottle "pouches" are hard to come by here.
There is a rainy season, in June and early July. The typhoon season follows in August and early September. I have gotten caught in a couple of downpours myself. Actually, it can be refreshing sometimes! I haven't seen a lot of Gortex stuff. It may be too hot for the summer, but can be handy during the winter. Depends on how much you care about getting wet, you may want to go for treadmills during the rainy season (almost all the local gyms have them, along with stair climbers).

Equipment:
Shoes: My advice is to bring them from home. Stores tend to stock smaller sizes, so guys with big feet (or even average by Western standards) may have a tough time finding the shoes that they want. Selection is small compared to the specialty running stores back home, although they do have a few to choose from if you aren't that particular about your shoes. However, ladies shoes have a much smaller selection. I know of one specialty running store in Miyazaki City (there are probably more). It's not very big, but does have lots of race information and carry some of the brand name shoes and clothing. Otherwise, you can get most of the basic stuff from general sports stores. It's a bit difficult to find someone knowledgeable to talk about choosing the right pair of shoes for the kind of runner you are. Prices aren't too bad, though you can probably find some cheaper shoes at home. Nike is quite popular here, and therefore can be expensive.
Clothing: I haven't seen too many good fabrics, like "coolmax" here. The Japanese usually wear these track suits (they're called Jaji "jersey"). They look like they are made out of some shiny polyester material. For the ladies, a good sports bra is hard to come by, so I would suggest bringing a couple from home. Any spandex/lycra clothing is usually pretty pricey. Many people wear singlets when they are racing, but almost no one wears them just for training. This part of Japan is a bit more conservative (e.g.: a sports bra-like top, and short spandex will make you really stand out!). You may not want to wear really "revealing" exercise-wear outside your home.
Races: There are tons of them (from 3 km to full marathons), especially during racing season (Fall and Winter). Each race costs about 2000-3000 yen, which includes a nice runner's kit, usually with a T-shirt and a bunch of goodies. Often a bento (lunch) is also included. Being a foreigner, you may even get a special prize for just showing up! I have been to races where they gave me souvenirs just because I am from another country.

In conclusion, running is quite popular here, and you will meet many die-hard Japanese runners. Many of you won't be too far from rice fields and farms, which offer some nice spots to run. Whether your goal is to start jogging regularly or to run a sub 3:00 hour-marathon, Miyazaki is a great place for running and for staying active.

PS Runner's World is on-line http://www.runnersworld.com You can also subscribe to the magazine and have it delivered to your address in Japan.
---




---
BONCHI-NET Phone:0986-22-8598